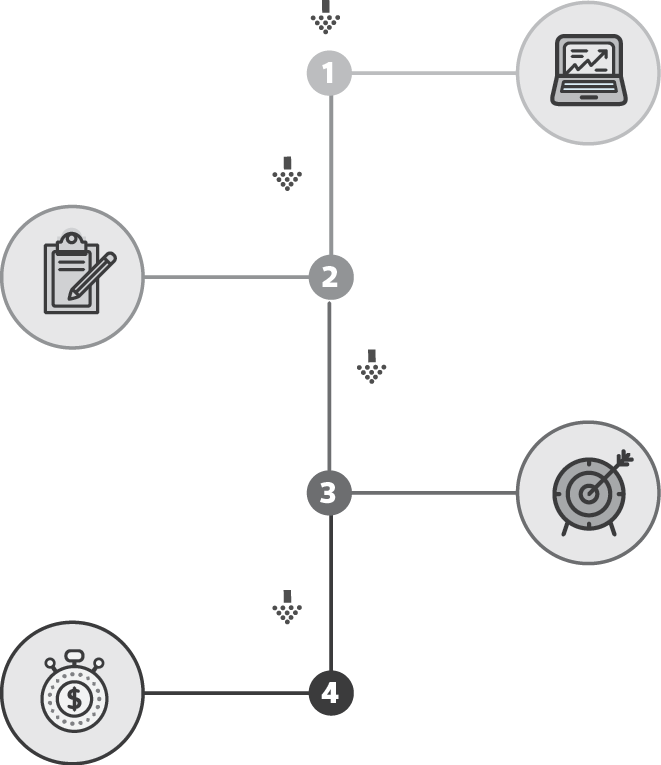 Data gathering
Benchmarking and opportunities identification
Initial assessment analysis report
Strategic Plan definition
Prioritize identified opportunities
Detailed action planning, timetable and checkpoints
Execution and monitoring of all activities defined in the detailed Planning:
Legal
Operational
Finance
Management and control
Operational e Finance
Support to Founders and Management Team
Exit strategy definition and/or Capital rounds execution
We are 100%
committed to
your results

Quick Delivery
Combination of weekly meetings to monitor tactical and operational execution with monthly Board meetings to drive strategy.

Broad Experience
Auddas catalyzes your business development and learning process by adding multiple industries expertises and know-how on diverse business' challenges.

Proximity
At least one Auddas Partner engaged in each project stage. The recurring engagement ensures the close understanding of the client and its objectives.

Continuous Improvement
Continuous effort on overall operational results improvement. We aim to maximize the asset and overall shareholder value.

From business owner to business owner
We cooperate with Founders in their businesses development. As entrepreneurs we know the pain, we have walked the path. We have the know-how and experience on how to manage and develop businesses.
We want to row your boat, face your actual challenges upfront, consciously and in cooperation with an "owner" MINDSET in order to address your business opportunities.
Accelerate your Business development.